GRAND FORKS REGIONAL WTP STRUCTURAL ENGINEERING

Grand Forks, North Dakota
The Grand Forks Regional Water Treatment Plant (GFRWTP) is a 20 million gallons per day hybrid water treatment facility that includes a parallel conventional and membrane treatment processes.

It will address key regulatory and water quality challenges, increased water demand, and logistical issues associated with the City's current 60-year-old facility.

The new facility will treat water from the Red River, the Red Lake River, or a combination of both to accommodate seasonal, weather-related and most typical variations in raw water quality.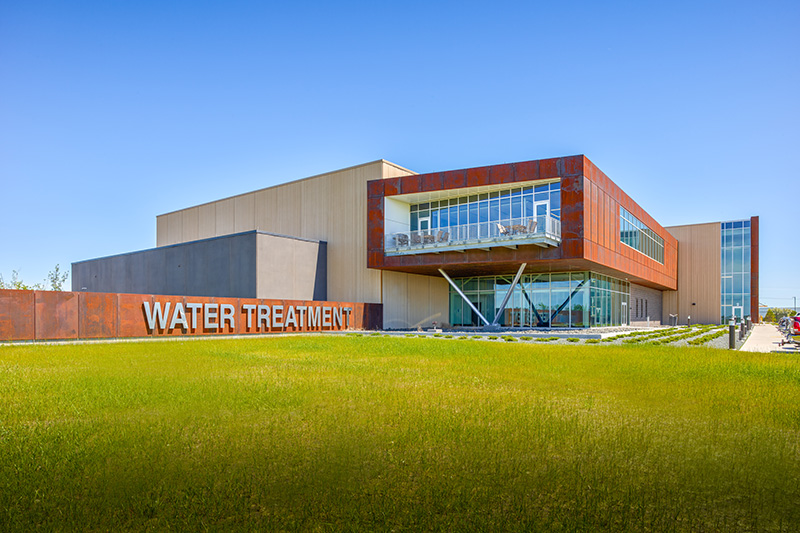 Date: 2015 – 2020
Client: City of Grand Forks
New Three-Story, 200,000+ Square Foot Facility

Designed Using Revit 3D

794 Driven Steel Piling to Depths up to 100 Feet Below Grade
The three-story facility contained over 200,000 square feet of area across the many treatment basins and occupied spaces. Water treatment layout included water containment basins for coagulation, flocculation, settlement, lime softening, ozonation, biological filtration, ultrafiltration membrane, reverse osmosis, and clearwell.

The structure also had administration, chemical storage, garage, workrooms, and storage spaces. The structure has a height of 75 feet above grade which houses chemical storage silo. The design was accomplished using Revit 3D, allowing for virtual walkthroughs of the facility.

Various structural framing systems were used across the structure. Cast-in-place concrete foundations, walls and floors framed the main treatment spaces. Pre-stressed precast concrete wall panels and roof members provided the building shell of the facility.

The administration space was framed from structural steel column and beams, open webbed steel joists, light gauge steel deck and cold formed walls. There were a number of structural design challenges that were addressed during planning, design, and construction.

These challenges included complex basin layout and configuration, foundation support requirements, a cantilevered administration space, and project sequencing. The foundation support was a critical item due to the soft and highly compressible soils that are common in the Red River valley.

To provide support of the heavy three-story structure, the design included 794 driven steel piling. The driven piling extended to depths up to 100 feet below grade.