UNIVERSITY AVENUE IMPROVEMENTS
Grand Forks, North Dakota

The City of Grand Forks was beginning to plan the anticipated mill and overlay of University Avenue when the University of North Dakota (UND) approached the City and asked to consider cost-sharing in a much larger project – the complete reconstruction and beautification of this heavily traveled corridor through the heart of campus. The project included installation of new utilities and a brand new road section with new street and pedestrian lighting, as well as architectural components and irrigation for the new landscaping.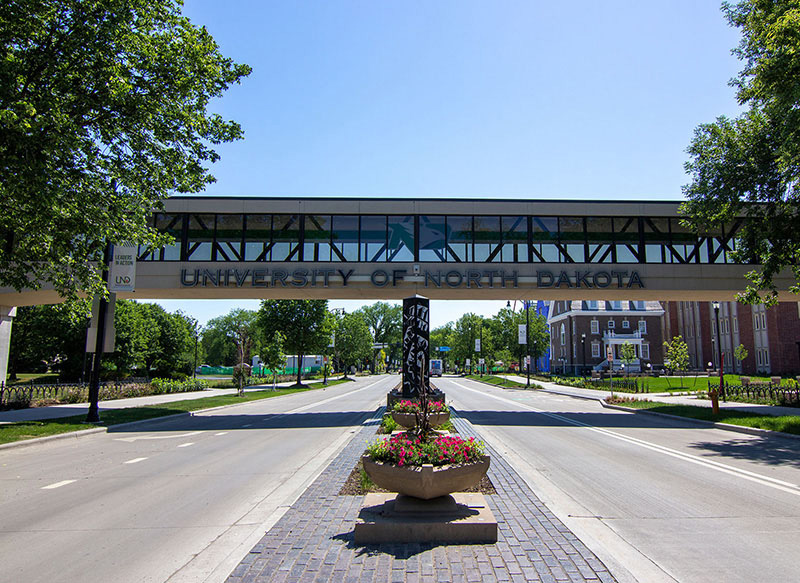 Date: 2018 – 2020
Client: City of Grand Forks
Trenchless Installation
Connections to Various Pipe Materials
Open Cut Installation
Hydraulic Modeling
Feasibility Analysis
Dewatering
One of the larger scope items included in this project was the addition of a water main along the north curb line of University Avenue. This new eight-inch PVC water main was installed with both trenchless and conventional open cut methods due to the large amount of utility conflicts. There was over 2,000 linear feet of eight-inch PVC pipe installed, with over 1,000 linear feet being bored and pushed. There were also multiple connections along the alignment to 12-inch and 16-inch existing asbestos cement pipe (ACP) and PVC water main.
The other underground utility that played a major role during the design phase was the storm sewer. The storm sewer network along University Avenue included an existing 24-inch RCP that was undersized for the area. The design team evaluated a scenario where one option would involve replacement of the existing pipe and a separate option would consist of installing a parallel storm sewer to aid in stormwater conveyance. AE2S modeled the storm sewer network along the corridor in order to properly size both scenarios. After reviewing feasibility and cost effectiveness, it was determined that a parallel line could be installed shallower and the pipe could be smaller so it resulted in significant savings for the City of Grand Forks.
In addition to the utility design, detailed planning and traffic control had to be designed to keep the public safe, as University Avenue is a major thoroughfare through the heart of the University of North Dakota's campus. The campus also sees heavy pedestrian presence, so keeping the site fenced off and adequately signed was vital to protect the public. The design teams' attention to detail, proactive project management plan, and open communication strategies with the stakeholders contributed to the overall success of this project.