UND STEAM PLANT
Grand Forks, North Dakota

AE2S was retained to provide structural and civil engineering services for the construction of a 300,000 #/hour, 16,200 GSF multi-story steam generating plant that replaced the aging coal-fired steam generating plant.

The project achieved commercial operation status in April 2020. The primary structure of the new plant utilizes a steel framed structure with concentric lateral bracing and a mix of precast and insulated metal panel wall cladding.

The new plant is constructed directly adjoining an existing pre-engineered metal building, so careful planning of fire walls, parapet heights, and new-to-existing structural details were required to avoid project costs to modify the existing structure, highlighted by a fire wall connection that utilizes consumable attachments to each side of the fire wall.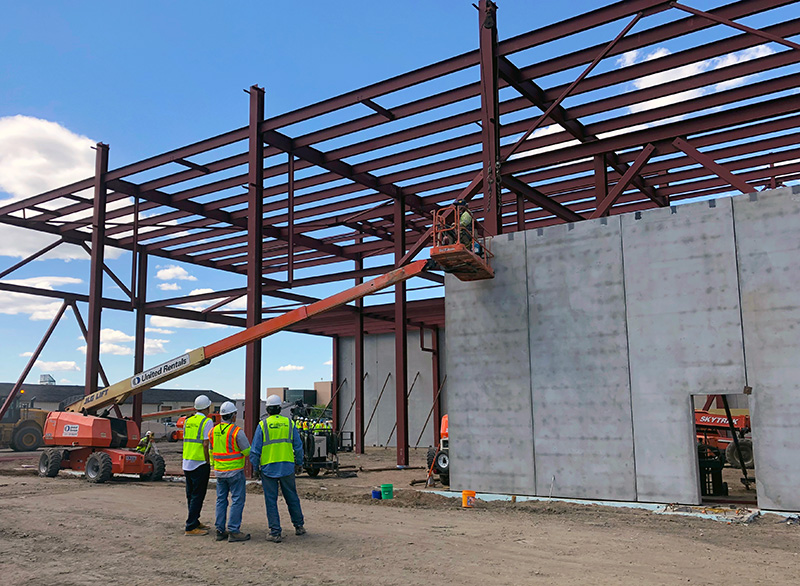 Date: 2018 – 2020
Client: Johnson Controls
First of its kind private Public partnership project delivery
Early cost development and estimating
Fire wall and occupancy separation
Anticipation of future steam generation expansion
Field response to mission-critical underground infrastructure
Air quality permitting
The civil engineering involved extensive and precise modifications to existing site utilities (water, steam/condensate, storm, telecom, electrical power) and to the site grading so as to neither disrupt existing service or require alterations to existing structures. In particular, the existing medium voltage underground electrical distribution conduits and duct banks required careful planning, including as-built surveys and coordination whenever they were exposed by excavations.
The project also included over 2,000 linear feet of new underground heat distribution piping consisting of carbon steel steam pipe and carbon steel condensate piping. The project pan and profile drawings included all known existing private and public utilities constructed and abandoned during a 100+ year development period.
The design and planning activities yielded a project that had no lost time due to inadvertent utility disruptions. The only known added costs due to field conditions were related to a small French drain that handles storm drainage from one small patio area. The design development phase culminated in a Guaranteed Maximum Price proposal in June 2018.
The structural design of the plant utilizes structural steel framing with steel concentrically braced frames for wind lateral load support. The structural design of the steam distribution manholes utilized cast-in-place concrete walls and vault roofs designed for HS25 truck loads where exposed to potential traffic loading.