WATER RESOURCE RECOVERY FACILITY
Sturgis, South Dakota
About the Project
A South Dakota town known for its annual motorcycle rally is getting attention for its innovative water resource recovery facility (WRRF) design.

Sturgis is the first city in South Dakota to use membrane bioreactor (MBR) treatment technology in its new WRRF. MBR combines microfiltration membranes with an activated sludge biological wastewater treatment process.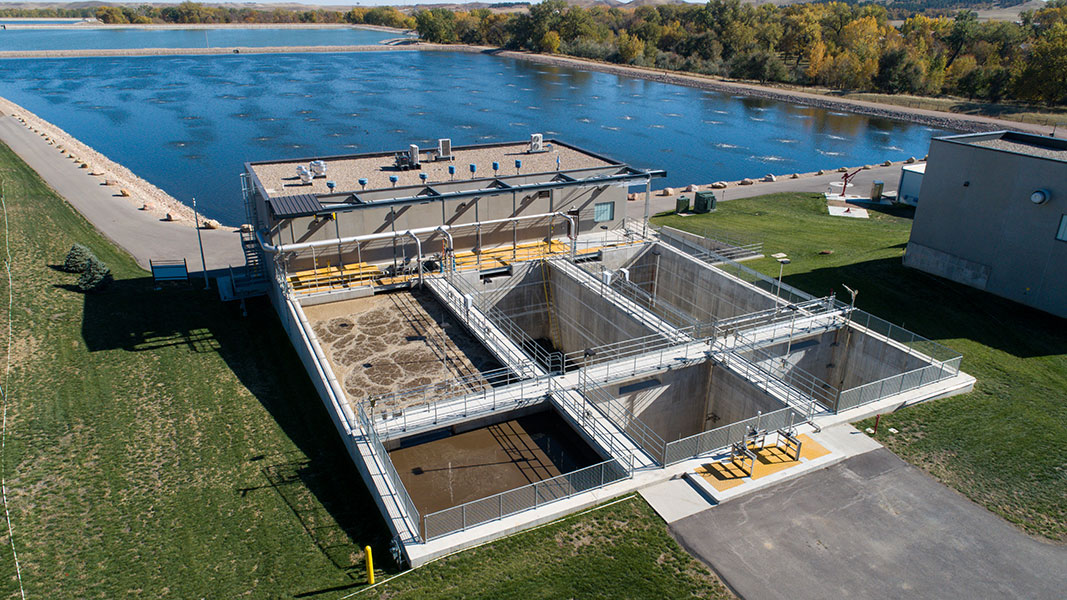 Date: 2020 – 2021
Client: City of Sturgis
Mechanical Treatment Evaluation
Municipal Financial Planning
Discharge Permitting
New Continuous Outfall
Challenges Threaten to Hamper Growth
The City of Sturgis had been operating wastewater stabilization ponds (WWSP), originally built in 1963 and updated in 1995. In 2014 and 2015, emergency discharges were necessary because the WWSP reached its capacity. City leaders realized the future growth of Sturgis would be hampered by the inadequate treatment capacity of the WWSP.

In addition, the technical capabilities of the ponds, or lack thereof, did not meet the strict cold water fishery regulatory requirements. The City of Sturgis hired AE2S to help with the development and design of the new WRRF.


MBR Selected Due to Ability to Meet Current and Future Regulatory Limits
AE2S collected data, evaluated, assessed and studied the existing wastewater treatment system. The results were compiled in a 2016 Facility Plan, which also provided an in-depth analysis of future upgrades necessary to meet current and future needs.

The Facility Plan provided a recommendation for installation of membrane bioreactor (MBR) treatment system, along with flow equalization, influent pump station, fine screens, grit removal, ultraviolet disinfection, effluent reuse and effluent re-aeration prior to discharge to Bear Butte Creek. The average day design flow for the MBR facility is 1.0 million gallons per day (MGD), with capability for a phased expansion to 2.0 MGD.


One of the First SD Wastewater Projects to Use CMAR
AE2S worked closely with the City evaluating alternatives for construction project delivery methods. The State of South Dakota allows both traditional design-bid-build construction delivery, as well as construction manager at risk (CMAR) construction delivery methods.

For a complex vertical construction project like the Sturgis water resource recovery facility (WRRF), there are multiple advantages to employing a CMAR project delivery method including cost-containment, constructability reviews, and project delivery schedule improvements.

Although CMAR is well-suited for the WRRF construction project, some headwinds existed in selecting the process. The most significant challenge was that no one had ever used CMAR for a project with State Revolving Loan funding in South Dakota.

Based on AE2S' experience with CMAR and the Owner's desire to use a CMAR construction delivery process, time was spent with both the State and City officials laying out a clear path for using CMAR for the project.