MISSOURI RIVER BATHYMETRIC SURVEY
Williston, North Dakota
About the Project
Closure of Garrison Dam in the mid 20th century reduced flow velocities in the areas upstream of the dam, which has induced significant sediment deposition, most notably in the vicinity of Williston, North Dakota.

The City of Williston, in conjunction with the Western Area Water Supply Authority (WAWSA), draws their potable water from the Missouri River. Historically, the treatment plant had three intakes on the river immediately downstream of the US Highway 85 bridge.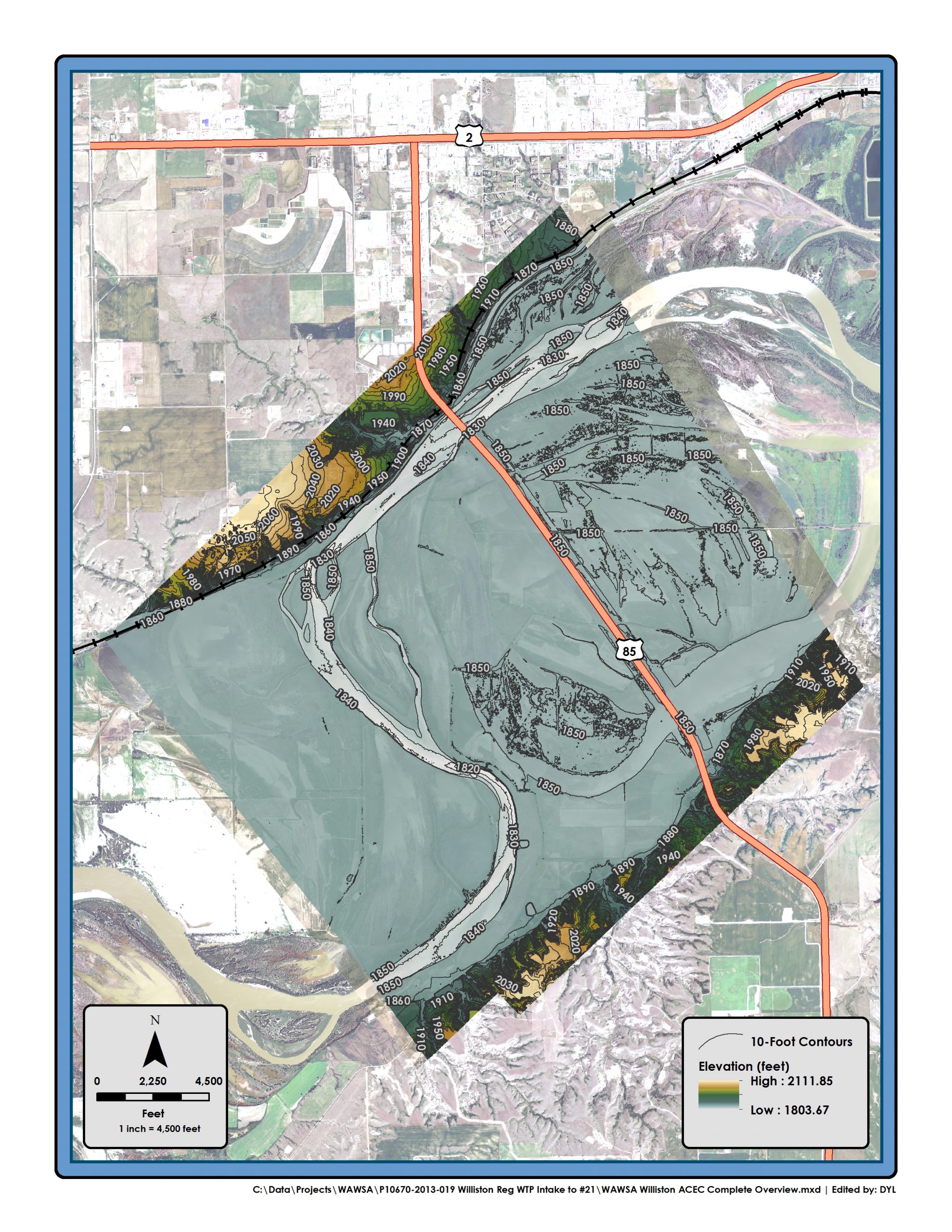 Date: 2014
Client: Western Area Water Supply Authority
Extensive Survey and LiDAR Data Collection
Large-Scale River Hydraulics
1D/2D Hydraulic Modeling
Risk Planning
River Sedimentation Creates Intake Challenges
Two of these intakes on the north side of the river became buried with sediment from the aggradation, leaving the intake on the southern end of the river as the sole source of potable water for the City and the surrounding region.

The southern intake is a pier-like structure immediately downstream of the southernmost US Highway 85 bridge pier, which was planned to be demolished and replaced upstream of the existing bridge.

WAWSA was concerned that the relocation of the bridge could alter flow characteristics near the water intake structure and allow for additional sedimentation to occur in the area, thereby potentially reducing the operational lifespan of the existing water intake.


Innovative Actions Earns Engineering Excellence Award
WAWSA enlisted the AE2S team to evaluate the potential for increased risk of sedimentation due to the NDDOT bridge project.  This included bathymetric surveying and LiDAR data collection to support the sedimentation evaluation.

The survey utilized a combination of surveying methods to construct a complete topographic map for over 7.5 miles of the Missouri River and 20 square miles of adjacent property, as well as provide high-resolution photography for the same area.

A survey of this size and complexity required a coordinated effort between several agencies and engineering consultants for successful completion. The results of the survey were used to conduct sedimentation evaluations for WAWSA.

This project was awarded an Engineering Excellence award by the North Dakota Chapter of the American Council of Engineering Companies.