RIDGEDALE BOOSTER STATION IMPROVEMENTS
Minnetonka, Minnesota
About the Project
The City of Minnetonka identified the need to rehabilitate the Ridgedale Booster Station and selected AE2S for the design, bidding, and construction phase services for the project.

The booster station rehabilitation includes the removal and replacement of the entire existing electrical equipment, including electrical for three 15-horsepower booster pumps, utility electric service equipment, motor control center, interior and exterior lighting fixtures, receptacles, HVAC equipment, indoor 100kW natural gas generator, automatic transfer switch, process instrumentation, and SCADA control panel.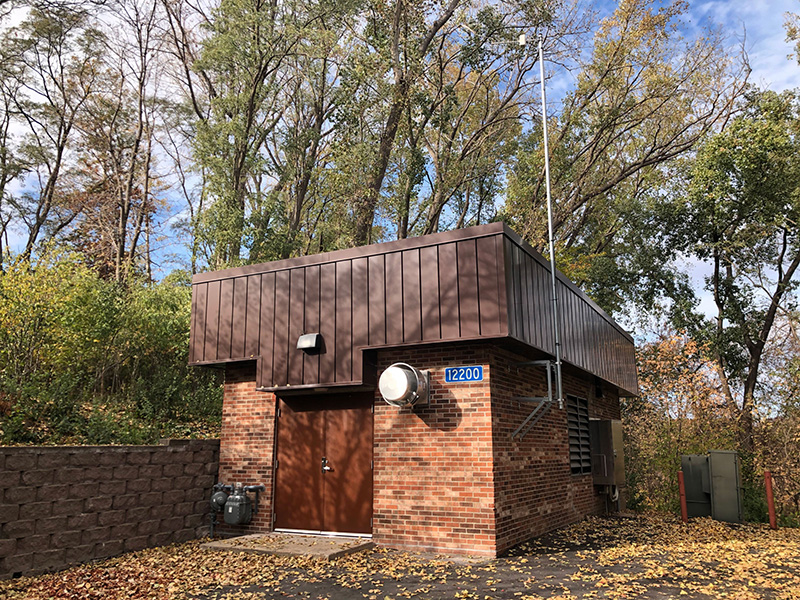 Date: 2020 – Present
Client: City of Minnetonka
Developed Creative Solutions to Fit the New, Larger Generator into the Existing Space Despite Several Space Constraints
Upgraded Existing Motors from Across-the-Line Starters to VFDs for Increased Pump Control
Design Using Revit on an Existing Pump Station for Accurate Replacement and Phasing of the Existing Equipment Showing Layouts on a Per Phase Basis
Limited to Four Hours Offline During Construction
Seamless Upgrades and Uninterrupted Operations
The booster station plays a critical role in the City's water system with the requirement to only be taken offline for a period of four hours throughout construction. As such, our team implemented design provisions and phasing requirements so that new equipment was installed along side existing equipment so pumps could be taken offline and upgraded one by one to ensure the booster station stayed operational during construction.

The project was designed using Revit 3D software. The existing building was modeled carefully using field measurements to recreate the existing building in a 3D space. The model was used among all design disciplines to coordinate equipment in the existing space to avoid potential conflicts. The model was available via the cloud for City staff to view in a web browser at any time during the design process, and was updated live as the design was being worked on.


Visualization Tools Support Decision-Making and Lead to Successful Outcomes
For the Ridgedale Booster Station Rehabilitation, we used Autodesk's BIM360, a cloud-based software platform, that allows all project stakeholders to see a 3D model of the project, from design to construction.

This supports the decision-making process and leads to more predictable outcomes. The model identifies conflicts and reduces field changes. It also allows for the team to virtually "walk-through" the facility to get a feel for space, layout, and appearance of the planned facility while enhancing operations reviews.

The 3D tool can also be extended outside the facility to demonstrate virtual "fly-over" videos of the planned facility for communication to the internal and external stakeholders.