GRAND FORKS REGIONAL WATER TREATMENT PLANT ELECTRICAL SYSTEM
Grand Forks, North Dakota
About the Project
The new Grand Forks Regional Water Treatment Plant (WTP) is capable of treating raw water from either of the City's source waters with a treatment capacity between 16 and 20 million gallons per day (MGD).

The WTP utilizes a combination of unit processes including pretreatment, ultrafiltration (UF), reverse osmosis (RO), lime softening, ozonation, biologically activated carbon (BAC) filtration, and chlorine/chloramine disinfection.

Due to the variety of treatment options, numerous WTP treatment scenarios were analyzed and presented to the owner to determine the preferred electrical utility service and emergency power generation plans.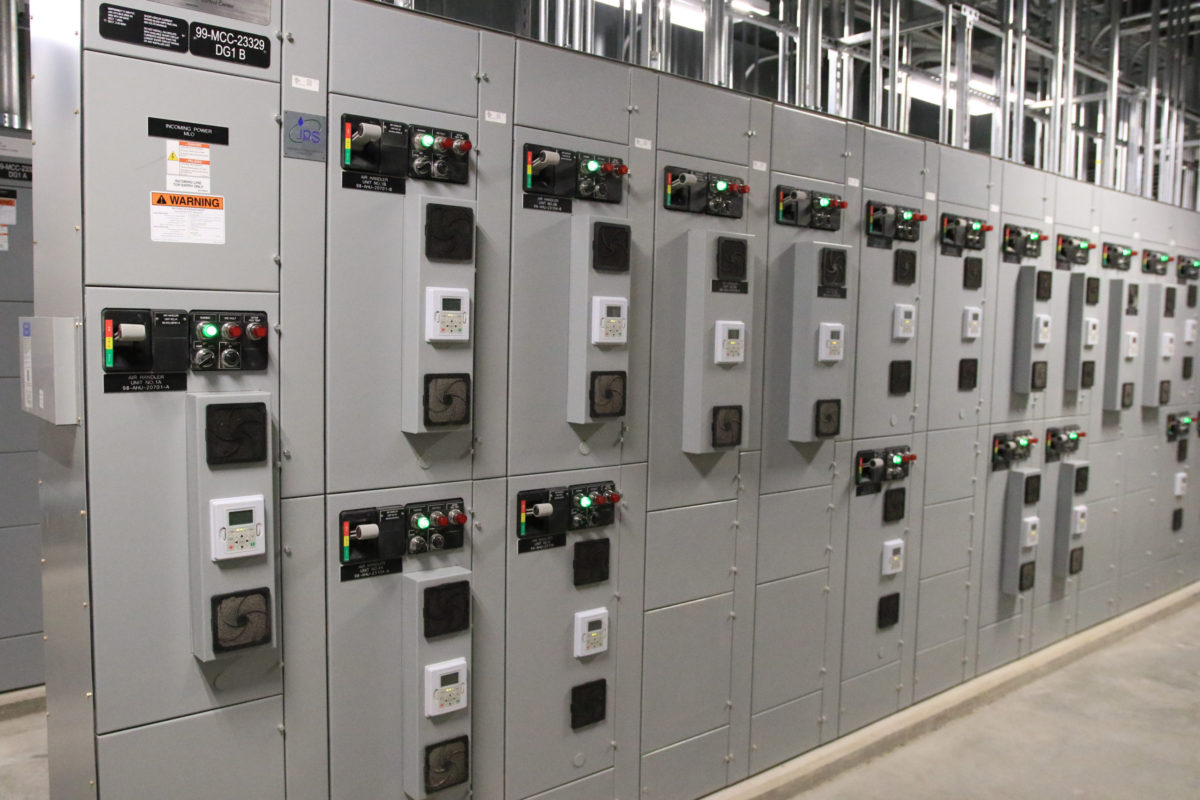 Date: 2015 – 2016
Client: City of Grand Forks
Water Treatment Plant Electrical System

Fire Alarm, PA Safety System, Security Cameras for Safety Monitoring
MCCS
Cellular Network Extenders
Variable Frequency Drives
UL-1558 SWGR

SCADA
Dedicated Electrical Room Space with MCC Distribution
Each floor of the Plant had dedicated electrical room with MCCs sometimes 20+ sections in length and mounted back to back to distribute power, house VFDs and starters, and provide controls throughout the WTP.


Advanced Communication Systems
The new WTP site had a campus-wide fire alarm system installed for multi-zone fire alarm detection. Furthermore a combination of a public addressable audio visual system; and advanced security monitoring allowed for staff to monitor and alert plant activities and issues from one central operating room location.


Redundant Utility Feeds from (2) Substations – Selected Option
AE2S worked with the local electrical utility to provide a full capacity feed from the primary substation. In addition, the local electrical utility also provided a reduced capacity feed from a secondary substation.

AE2S recommended additional emergency generation, in addition to the two feed options provided from the local utility. The comprehensive solution maximized the City's investment, while also providing very little risk of an extended power outage.


Generation/Distribution System Capacity
The project included (2) 2500kW, 12470V Tier 4 Final generators, as well as a spare breaker for a future third generator. The generators will provide emergency standby power, be utilized for storm avoidance, and also have the ability to "peak-shave" for the local utility company. This solution will ultimately provide the local electrical utility increased energy cost savings.
The generators will have the ability to be connected to the local utility via an Extended Parallel Interconnection, including the ability to export power using sophisticated 1200A, 12470V generator paralleling switchgear. The complete distribution system consists of the following:
5.0 MW (7.5MW future) of planned generation connected at 12470V.
(2) 12470V Primary Metering Switchgear for use by the serving Electric Utility.
(1) 1200A, 12470V, Main-Tie-Gen-Gen-Gen-Tie-Main configured Metal Clad Paralleling Switchgear that includes an Arc Flash Reduction relay and fiber optic system within the Switchgear.
(6) 12470V-277/480V 3000kVA Pad Mount Transformers.
(3) UL 1558, 4000A, Main-Tie-Main configured 277/480V, 3PH Low Voltage Switchgear.