FINAL CLARIFIER IMPROVEMENTS
Sioux Falls, South Dakota
About the Project
AE2S designed the rehabilitation and process modifications for four 100-foot final clarifiers at the Sioux Falls Water Reclamation Facility.

The existing WRF includes trickling filters followed by activated sludge, but the improvements phasing included nutrient removal within the planning period that decommissioned the trickling filters and upgraded the activated sludge to full biological nutrient removal (BNR).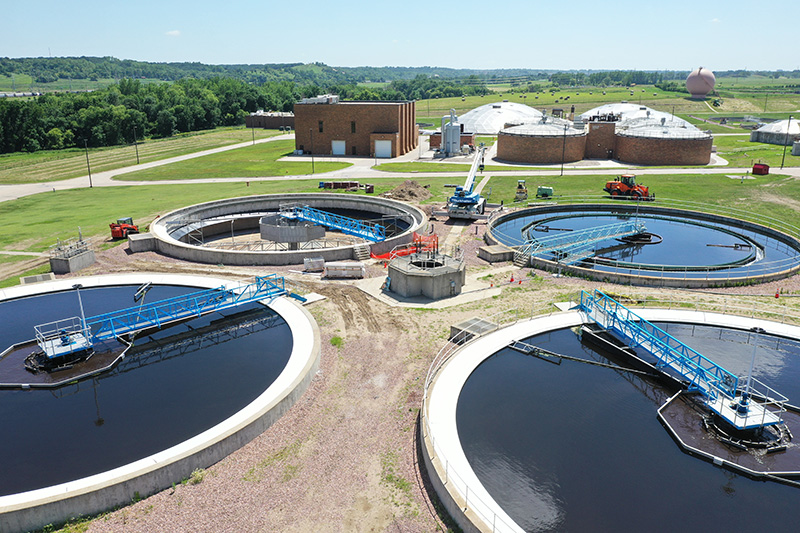 Date: 2018 – 2021
Client: City of Sioux Falls
Asset Renewal
Modifications for BNR
Operations and Safety Improvements
Rehabilitation for Improved BNR Treatment and Operator Safety
The final clarifier mechanisms are nearly 40 years old and in need of replacement. The final clarifier rehabilitation project provides asset renewal while reconfiguring the clarifiers for the future BNR treatment as well as improved operator access and safety. Spiral rake clarifiers mechanisms were selected for efficient mixed liquor return.

The effluent weir and launder configuration was modified to provide full scum removal that the existing inboard launders did not provide. Additional process improvements included launder covers (algae prevention), energy dissipating inlets, and density current baffles.


Enhanced Operator Access and Cost Management
The site was also re-graded to provide enhanced operator access to the launders for cleaning, and several yard hydrants were installed to limit hose length. The 2018 steel tariffs brought some uncertainty to project costs, and bid alternates were developed to manage budget, if necessary.

Bids were opened in February 2019 with favorable bids that allowed for a recommendation of awarding the three bid alternates. Total project costs are anticipated to be approximately $3.4M to come in under the budgeted $4M CIP.

Construction is scheduled for 2019 and 2020 so that only one clarifier at a time will be removed from service.