CITIES AREA TRANSIT BUS FACILITY
Grand Forks, North Dakota
About the Project
The City of Grand Forks was looking for a comprehensive reimagining of the existing Cities Area Transit (CAT) bus facility and turned to the team led by JLG Architects, with AE2S serving as a subconsultant.

The project included complete demolition of the one-story/low-roof office area and replacement with a reconfigured office and public entry area.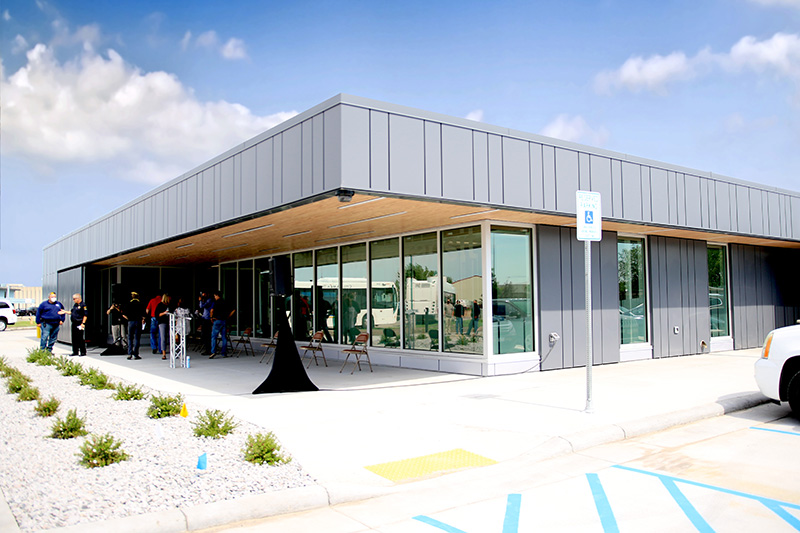 Date: 2018 – 2020
Client: JLG Architects
New Office and Public Entry Area
Structural Considerations Abutting Expansion with Existing Structure
Long Roof Overhang and Clear Span Truss at Front Entry
Decorative Screen Walls
Enhancing Entryways, Structural Design, and Site Redevelopment
The public entry is highlighted by a two-story clerestory entry hall framed with a long-span steel truss exposed to emphasize the lightness and openness of the area. The structural design had to carefully consider the footings and foundations at the interface where the new office abuts the remaining structure.

The project also included a bus storage addition to an existing precast framed two-story bus garage, modifications to existing structures where various architectural and mechanical system improvements were made, and a steel-framed mezzanine structure that replaced the original sloped "KalWall" translucent wall panels.

The civil engineering and site redevelopment thoughtfully incorporated current stormwater ordinance requirements without needing a detention pond, as well as many isolated improvements to site grading that had to incorporate the expanded footprint of the facility.