18th AVENUE WATER MAIN IMPROVEMENTS
Williston, North Dakota

The City of Williston was encountering difficulties in supplying water to the east side of the city due to growth and increased demand from the regional rural water system.
AE2S prepared a hydraulic model of the City's water distribution system, which identified the existing 12-inch ductile iron water main in 18th Street as needing to be upsized to deliver the necessary water volume.
The project consisted of replacement of 6,150 feet of 12-inch DIP water main with 18-inch PVC water main using a combination of directional drill and open-cut construction methods.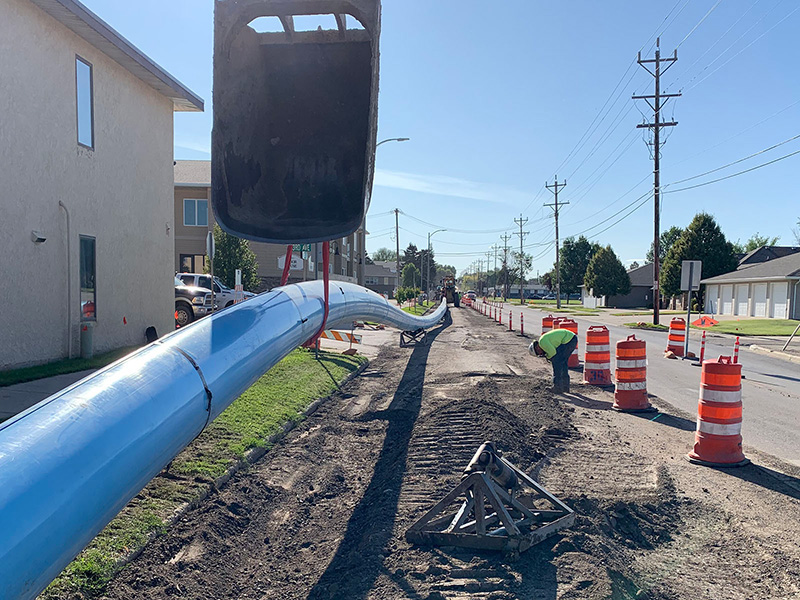 Date: 2019 – 2020
Client: City of Williston
Directional Drilling

Traffic Control Plan

Coordination with Public Works and Emergency Services

Maintenance of Homeowner Access and Water Service
The project presented challenging construction conditions, as 18th Street is a collector street.  No viable detour route existed for the west half of the project, so two-way traffic needed to be maintained during construction.  The street on east half of the project was able to be closed in phases as construction progressed.  This required the development of a detailed traffic control plan, and close coordination with Public Works to ensure the public was notified of upcoming detours and street closures, and coordination with Emergency Services for alternate routes, emergency access and out-of-service fire hydrants. 
Homeowner access needed to be maintained, and a temporary water service system needed to be set up and maintained for the duration of construction due to the street being residential.  The project was completed in two phases over the course of the 2019 and 2020 construction seasons.