The COVID-19 pandemic has underlined the crucial importance of essential services like water. Utilities are adapting and planning at record pace to ensure continuous delivery of clean drinking water to all their customers. As we first told you in a special edition of The Update, the timing and importance of such services come at a point when Community Water Systems are planning for water system security, resiliency, and emergency response under the America's Water Infrastructure Act (AWIA).
The first AWIA deadline for Community Water Systems serving more than 100,000 to submit a certified Risk and Resilience Assessment for review and acceptance by the U.S. Environmental Protection Agency (USEPA) was on March 31, 2020. The deadline for utilities serving 50,000 to 100,000 to submit a certified Risk and Resilience Assessment is December 31, 2020, and the deadline for utilities serving 3,300 to 50,000 is June 30, 2021.  The corresponding Emergency Response Plan must be certified and submitted within six months of the date of submittal for the Risk and Resilience Assessment. It is important to note that even in the face of a pandemic, no deadlines were extended, since AWIA is targeting events like a pandemic as part of water systems planning.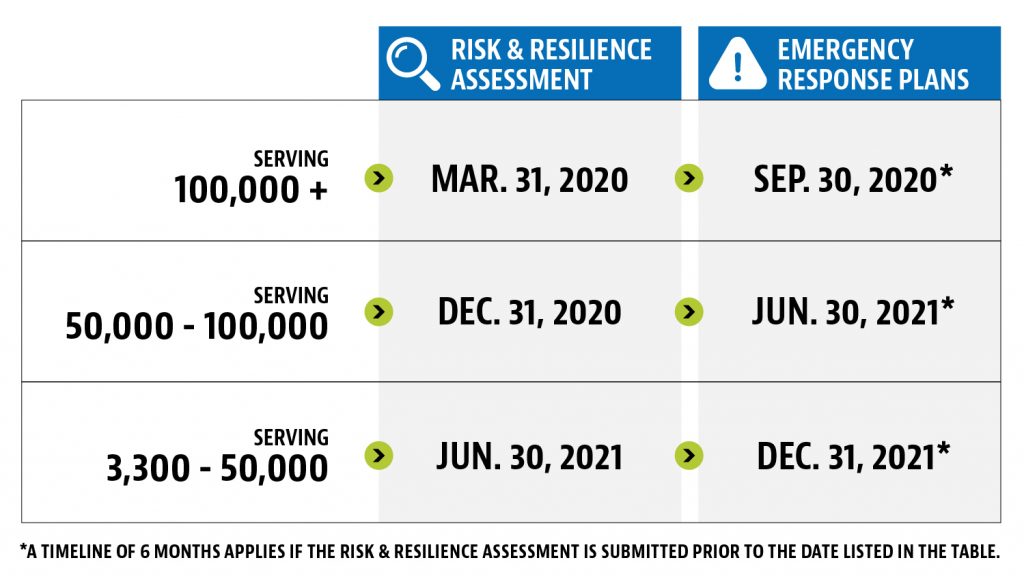 AWIA requires that Risk and Resilience Assessments account for the following components:
Malevolent acts such as vandalism or terrorism.
Natural hazards.
Resilience of pipes and constructed conveyances, physical barriers, source water, water collection and intake, pretreatment, treatment, storage and distribution facilities, electronic, computer, or other automated systems (including the cybersecurity of such systems) which are utilized by the water system.
Monitoring practices of the system.
Financial infrastructure of the system.
Use, storage, and handling of various chemicals by the system.
Operation and maintenance of the system.
Optional evaluation of the capital and operational needs for risk and resilience management for the system.
The USEPA has a Vulnerability Self-Assessment Tool (VSAT) to assist water providers in preparing an AWIA compliant Risk and Resilience Assessment. By using VSAT Web, a utility can identify the highest risks to mission-critical operations and develop the most cost-effective measures to reduce those risks.
Emergency Response Plans
Next, each system must develop or revise the Emergency Response Plan and submit it no later than six months after certifying completion of its Risk and Resilience Assessment. In addition, water providers must coordinate with local emergency planning entities when preparing response plans. The USEPA offers an Emergency Response Plan template with instructions to help water systems develop or revise existing Emergency Response Plans, as well as an Incident Action Checklist for Pandemics. There is little doubt that a pandemic is a very real threat to utilities and an incident specific response plan will not likely be universal.
Under AWIA, Emergency Response Plans should include:
Strategies and resources to improve system resiliency, including the physical security and cybersecurity of the system.
Plans and procedures that can be implemented, and identification of equipment that can be utilized, in the event of a malevolent act or natural hazard that threatens the ability of the community water system to deliver safe drinking water.
Actions, procedures, and equipment, which can prevent or significantly lessen the impact of a malevolent act or natural hazard on the public health and the safety and supply of drinking water provided to communities. Such items include the development of alternative source water options, relocation of water intakes, and construction of flood protection barriers.
Strategies that can be used to aid in the detection of malevolent acts or natural hazards that threaten the security or resilience of the system.
Community water systems may use existing Risk and Resilience Assessments and Emergency Response Plans if they already comply with the criteria prescribed by AWIA. Utilities are encouraged to be aware of the compliance deadlines for their systems. Community Water Systems can take appropriate steps now to make sure they are better prepared for the upcoming requirements, including reviewing existing Emergency Response Plans and Risk Assessments and comparing them to the criteria and guidance provided by the USEPA.
Contact Nate Weisenburger, AE2S Drinking Water Practice Leader, or Adam Zach, AWIA Technical Services Manager, for guidance on complying with AWIA requirements.